Promotional Covid-19 Products - Advertise Your Brand
Posted by Christina Smith on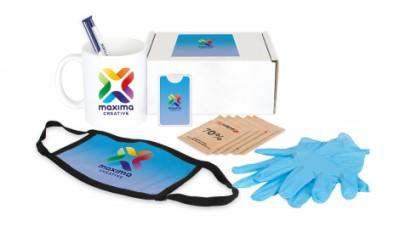 As we approach the winter months the news we keep hearing is continue to stay safe, wear protective face masks and hand sanitise regularly. Keep your brand on display by using promotional Covid-19 products as part of your corporate identity and advertise while protecting.
Leaving the right memorable impression is important so why not make your products unique. Things to consider when ordering promotional Covid-19 products are 1) are they useful? without question that would be a solid yes, 2) is it used regularly? another yes and 3) can the product create brand views? so all three yesses then.
We have many products in our Covid-19 collection including biofree and antibacterial pens and pencils, face masks and visors, hand sanitisers and wipes, sterile lanyards and complete hygienic multipack. Pick your product, add your logo and details to create your own branded items.
Reassure yourself and those around you with face masks from 89p each or face shields from £2.99 each. We have gels and wipes from 52p each and even biofree pens from 26p each.
Why not consider complete kits containing a hand sanitiser, alcohol wipes, vinyl gloves, a face mask, a biofree pen and a mug (not sure this item is sterile though!). All these items as well as the presentation box can be personalised with your logo or message.
As with all our products quality is important to us and we only offer products that are fit for purpose. We have face masks that can be washed and reused up to 25 times. Child masks are also available.
Just upload your artwork and get started on creating your own customised promotional Covid-19 products that are essential, useful and increase brand awareness. Delivery times are generally between 2 and 4 weeks.
Got a question or like to find out more about  Promotions Only Gifts then email sales@promotionsonlygroup.co.uk or give us a call on 01256 880019.
---
Share this post
---
---